Great slump: By 1933, unemployment in the USA was at 25 per cent. Photo: The Day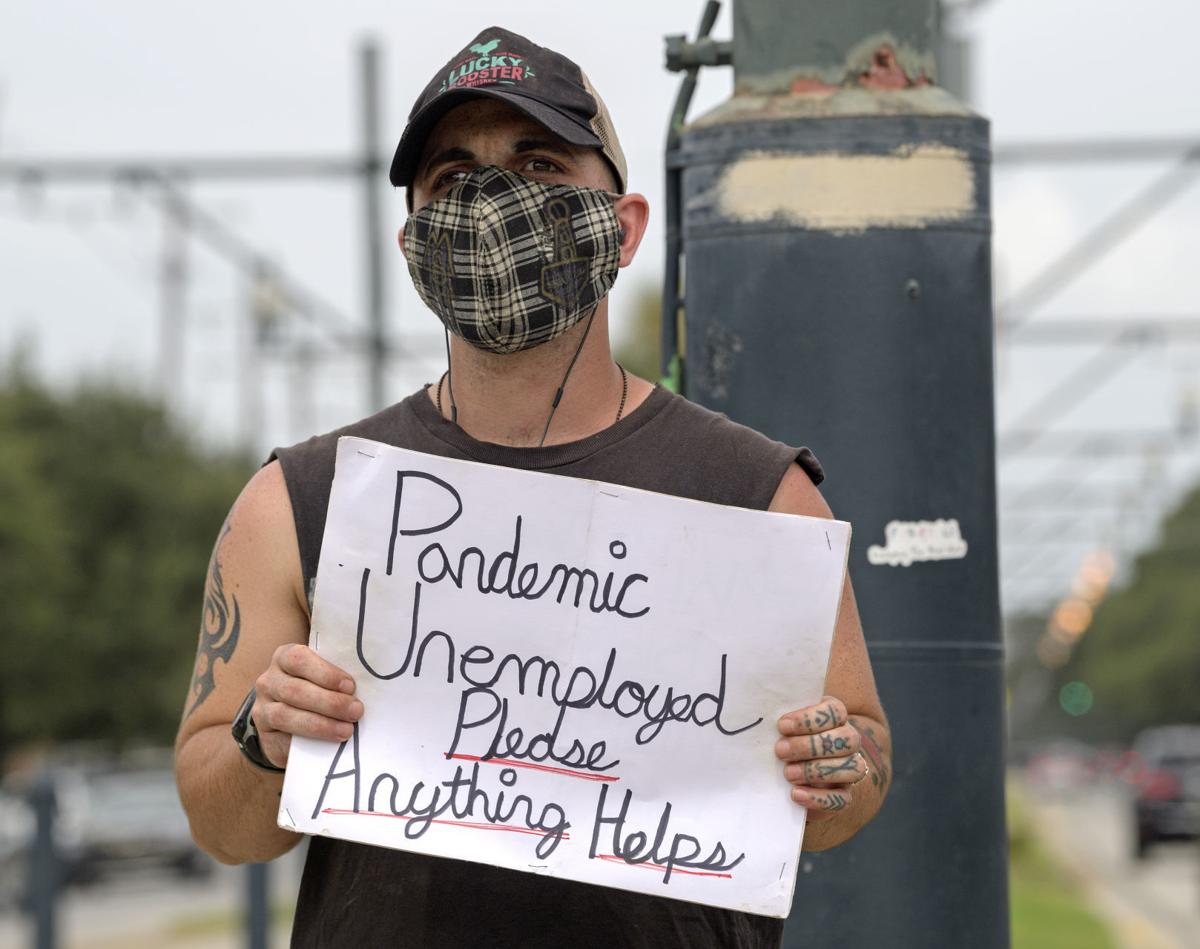 Sean Harris holds a sign asking for help in Sept. 4 in New Orleans. Harris had just completed training to be a hunted history tour guide in the French Quarter when the coronavirus pandemic hit. He has not been able to find a job since. Photo: Times News
This year, 2020, is the worst economic downturn since the great depression.  It is one of the worst economic downturns in American history.  They say it is just the beginning.  This is only the tip of the iceberg.  The worst is still to come. 
According to World Bank forecasts, the global economy will shrink by 5.2% this year. That would represent the deepest recession since the Second World War [1].
The pandemic crisis caused bankruptcy to a lot of companies like: Aldo (Shoe Retailer), 24 Hour Fitness, Gold's Gym, California Pizza Kitchen, Chuck E. Cheese, Cirque du Soleil, Debenhams, Hertz Corp, Frontier Communications, JC Penny, Neiman Marcus, GNC, J Crew, Lane Bryant, Lord & Taylor, Lucky Brand Jeans, New York & Company, Roman Catholic Diocese of Harrisburg,  Pier 1, Sizzler, USA Rugby, Virgin Australia and a lot more [2][3][4].
Over 42.6 million Americans have filed for unemployment during the coronavirus pandemic [5].  Eventbrite laid off half its workforce as events worldwide are canceled.  Airbnb cut 25% of its workforce.  Uber laid off around 6,700 workers in two waves and shut 45 offices.  Rent The Runway laid off all retail employees across the country.  Compass Coffee, a Washington, D.C. Starbucks competitor, laid off 150 of its 189 employees.  General Electric laid off about 10% of its jet engine workforce, around 2,500 workers.  The University of Colorado at Boulder laid off a handful of employees, and more layoffs could be on the way.  The International Alliance of Theatrical Stage Employees, IATSE, estimated that 120,000 jobs for film workers, including technicians, artisans and other crew positions have been eliminated. [6]
As of today there are 201K deaths in the US and 971K deaths worldwide [7].  Nearly 600 front-line health care workers appear to have died of COVID-19 in the US [8].  People are dying, mourning & starving.   If only the 30-Day National Lockdown was enforced.
Scientists have been warning us about the climate change.  Extreme weather, natural disasters, and strange animal behavior are clear warnings to us that something is wrong, but some leaders are dismissing it and their staunchest followers silence it. 
This uncertain time calls for careful analysis.  Look for the numbers instead of rumors.  Follow the public health guidelines to support the heath care workers to keep them safe as they save lives, spend wisely, and vote wisely this November 3, 2020 US election.
It is not for me to judge, but imagine if everybody thought this way, imagine how resilient the economy would be, what a powerful global community we would form.
REFERENCES:
"COVID-19 to Plunge Global Economy into Worst Recession since World War II".  The World Bank.  June 8, 2020.  https://www.worldbank.org/en/news/press-release/2020/06/08/covid-19-to-plunge-global-economy-into-worst-recession-since-world-war-ii
Shen, Lucinda.  "The 20 biggest companies that have filed for bankruptcy because of the coronavirus pandemic".  Fortune Media.  June 29, 2020.  https://fortune.com/2020/06/29/companies-filing-bankruptcy-2020-during-coronavirus-pandemic-covid-19-economy-industries/
Wikipedia. https://en.wikipedia.org/wiki/Category:Companies_that_filed_for_Chapter_11_bankruptcy_in_2020
Tucker, Hank.  "Coronavirus Bankruptcy Tracker: These Major Companies Are Failing Amid The Shutdown".  Forbes.  May 3, 2020.  https://www.forbes.com/sites/hanktucker/2020/05/03/coronavirus-bankruptcy-tracker-these-major-companies-are-failing-amid-the-shutdown/#2b79a52e3425
"Cases overview".  https://g.co/kgs/MQhEs1
https://khn.org/news/exclusive-investigation-nearly-600-and-counting-us-health-workers-have-died-of-covid-19/
"Exclusive: Nearly 600 — And Counting — US Health Workers Have Died Of COVID-19".  Kaiser Family Foundation.  June 6, 2020. 

"World faces worst crisis since Great Depression".  The Day. 

Ridler, Keith.  "Idaho initial and continuing unemployment claims drop again".  Times News.  September 17, 2020.  https://magicvalley.com/business/idaho-initial-and-continuing-unemployment-claims-drop-again/article_caf91cfa-2794-5a5c-acfa-21d20ee7a5d7.html